Deliver efficient services flexibly and productively with the new features available in Service Cloud as new upgrades are introduced from the Spring'22 Salesforce Release. Get used to the new Omni-channel flows to dynamically route customer calls and messages to service bots or agents. Contact center supervisors can now use real-time Amazon Connect metrics to listen to calls with Service Cloud Voice. These are just a few updates from the latest Spring 22 Salesforce Release. Let's deep dive to see more details on what's new in the new Spring 22 Salesforce Release for Service Cloud.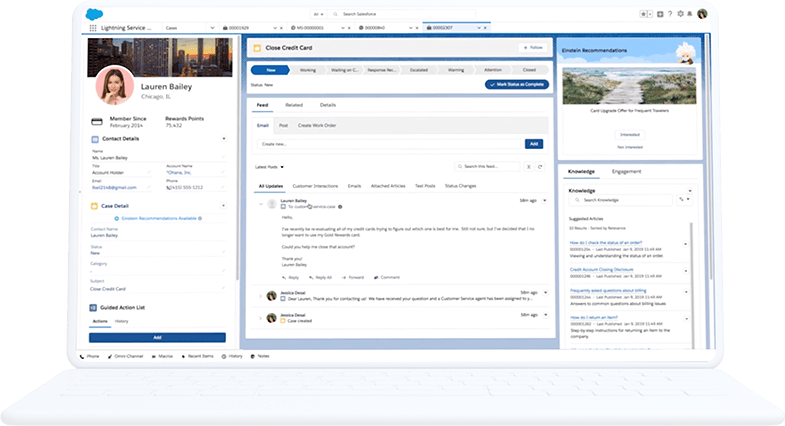 Streamlined Voice Channel For Improved Employee Experience
With omnichannel flows and Amazon Connect, the supervisor experience is now elevated to the next level of productivity. Supervisors can directly route the right calls to suitable agents. They can also listen in on calls, filter queues, and skills they see in Omni Supervisor. On the other hand, Agents can now access org-wide voice call recordings, voice call records, and call routing that is in tune with omnichannel agent capacity. With an advanced streamlined setup, organizations can now enhance employee productivity and elevate customer service to the next level. 
Omni-Supervisor Enhancements To Manage Routing Better
Spring 22 Salesforce Release introduces the enhanced Omni Supervisor. Now efficiently get updates and manage offline agents. Check agents' online and offline status durations and their assigned work capacity, tend their queues and skills to plan and serve customers better efficiently. Supervisors can filter queues from the Queues Backlog and Assigned Work tabs with customized filtered views. Omnichannel flow features can be used to route non-real-time work like cases, leads or custom objects. An example can be like adding screen pops when routing issues. You can now address this by calling an Omni-Channel Flow with screen pops from the record-triggered flow that routes cases.
Advanced Einstein For Service
The new enhancement from Spring 22 Salesforce Release allows you to add up to 10 fields in the article recommendations model and calculates the segment count record for case classification. The Bot Builder inside Einstein Bots has been redesigned as the Conversation Canvas to be more user-friendly. Create a fully functional bot and connect it to any channel of choice without any interface using Einstein Bots API Platform. The new Sales bot template helps quickly create and launch bots to optimize sales and use cases. 
Improved Workforce Engagement

Long-term forecasts, capacity plans, and historical adherence metrics can help to improve scheduling for call center staffing. Earlier analysts could create intelligent forecasts for predicted channel volumes for 12 weeks. While now, projections can be made to up to 52 weeks to plan better. Analysts can now even see how many full-time employees (FTEs) are required by job profile and plan accordingly to support staff requirements. The dashboard gives a holistic view of the statistics for schedule adherence, conformance, omnichannel status, and scheduled versus present time to improve planning accuracy.
Assigning and updating shifts in bulk, locating shifts using color, and accessing configuration tools are now all streamlined and unified to improve workforce engagement. Keeping agents happy to serve customers is also enhanced by a new territory scheduling rule limiting less desirable shift assignments. And now, analysts, planners, and agents can use Workforce Engagement in 32 different languages while admins can set up the tools in 17 other languages. 
Enhanced Incident Management
The Spring 22 Salesforce Release has enhanced the incident management function to eliminate customers' potential complications. You can now employ out-of-the-box incident management page layouts powered with complete SLA management tools to set things right instantly in the most streamlined and unified way for your customer experience. Notify the teams using omnichannel flows and work plans, Slack to get to the core of the incident resolve it most efficiently. With the related lists feature, you can assess an incident's total impact to carry key takeaways to future-proof the organization from further such incidents. 
Making Knowledge Shareable
With the new Spring 22 Salesforce Release, sharing the latest knowledge articles is easiest. The new Copy Article Link button available in the knowledge layouts can now help users to share the latest published version link. Users no longer have to worry about the updated versions before sharing a knowledge article. You can now open full-size images to zoom in on the most critical details. In this new product release, Salesforce also ensured the article view counts show accurate information.
Salesforce Service Cloud helps you get more intelligent client support for your business with all the improved features brought by Salesforce in this Spring 22 Release. Need help in upgrading or building your service channels better to service clients the best way? We're just a click away! Let's connect