As customers gain more familiarity and success with Salesforce products and the force.com platform, they are implementing more complex business processes on Salesforce. Where once Salesforce was seen as a front-end technology exclusively focused on customer-facing functions, now it is utilized to manage product configuration, pricing, quoting, creating invoices, managing, billing, and even revenue schedules. As the lines blur between Salesforce and ERP systems, integration becomes more and more essential to avoid having a bifurcated set of back-end business processes. Today we will discuss the four patterns for Salesforce revenue Cloud and ERP integration. How it can be best achieved and what are the use cases to follow. However, before attempting to discuss Integration between Salesforce Revenue Cloud and an ERP system, the organization needs to make some critical decisions regarding managing some fundamental data sources. 
Implementation of Salesforce results in many potential integration options for Salesforce and an ERP system. However, before selecting a pattern the master data governance process needs to be determined. While this sounds grand and complex it's quite simple if you constrain the bounds of the problem to be Salesforce and the ERP. Your organization needs to determine where key business data is created and updated. Once that decision is made going forward the second system reads information from the master system either in real time or via a daily update process.  Although this sounds like an IT decision, in fact this is a business decision that users that work with the systems on a daily basis must have a stake in.
Let's consider some common data objects that reside in Salesforce and an ERP system generally.
| | |
| --- | --- |
| Salesforce | ERP |
| Accounts | Customers |
| Contacts | Contacts |
| Products | Items |
| Opportunities | Inquiries |
For each row in the table above, an organization needs to decide which system should be the master source of information. The growth a business is experiencing and if the growth is coming from new or existing customers is a key factor in determining which system should be the master for Customer Data. For example, some schools of thought say that a Customer Master List should reside in an ERP system because ERP systems typically have more governance and oversight around the creation of records when compared to CRM systems. This would result in higher customer data quality at the cost of more delays in onboarding new customers. Once the Master Data Governance Process has been decided, you can focus on the Revenue Business Process
Traditionally, the revenue lifecycle was managed by three different platforms structured like an assembly line. The sales team built a pipeline and negotiated customer contracts using a CRM system. When the customer was ready to buy, they used a quote-to-cash system to input the sales order and pass the details downstream to the operations team for fulfillment. Once the order was delivered and cash collected, the details were passed to ERP, the financial systems of record, where revenue was recognized.

Salesforce Revenue Cloud allows businesses to move their business processes out of fulfillment and ERP systems in Salesforce to reduce the number of handoffs that need to occur. 
Four terms are used to describe which of the steps in the business process above are moved into the CRM system. Lead-to-Order, Lead-to-Invoice, Lead-to-Payment, and Lead-to-Ledger. Each of these choices has pros and cons, and often moving from Pattern 1 to 4 is a gradual process that occurs over the course of years. 
Lead-to-Order Use Cases:
Complex Quoting 

No Change Orders

Physical Goods

Perpetual Licencing

Non-Recurring Revenue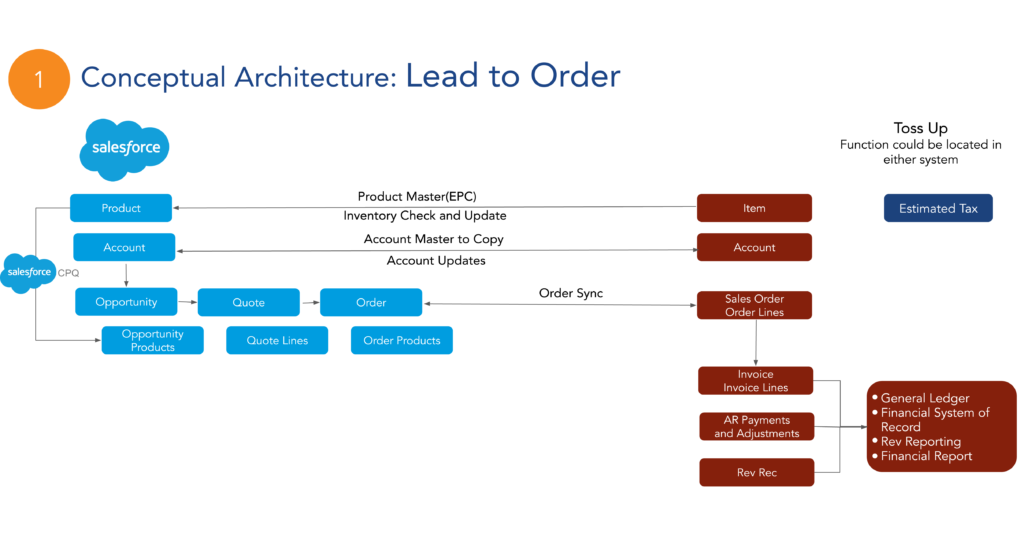 Lead-to-Invoice Use Cases: 
Complex quoting

Amendments

Renewals

Recurring Revenue

Usage Based Product and Service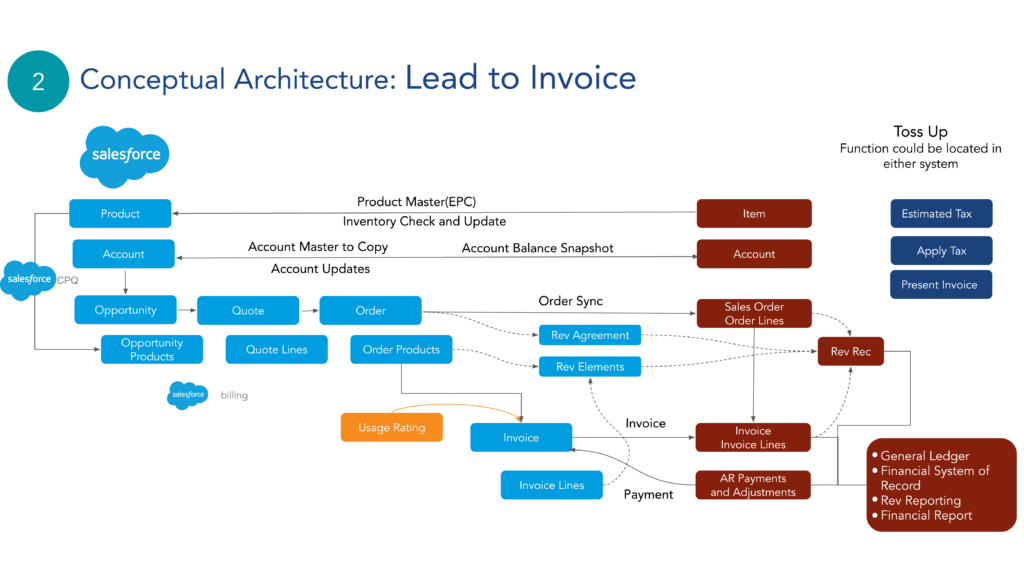 Lead-to-Payment Use Cases:
Electronic Payments

Line Level Payment

Usage Based Charging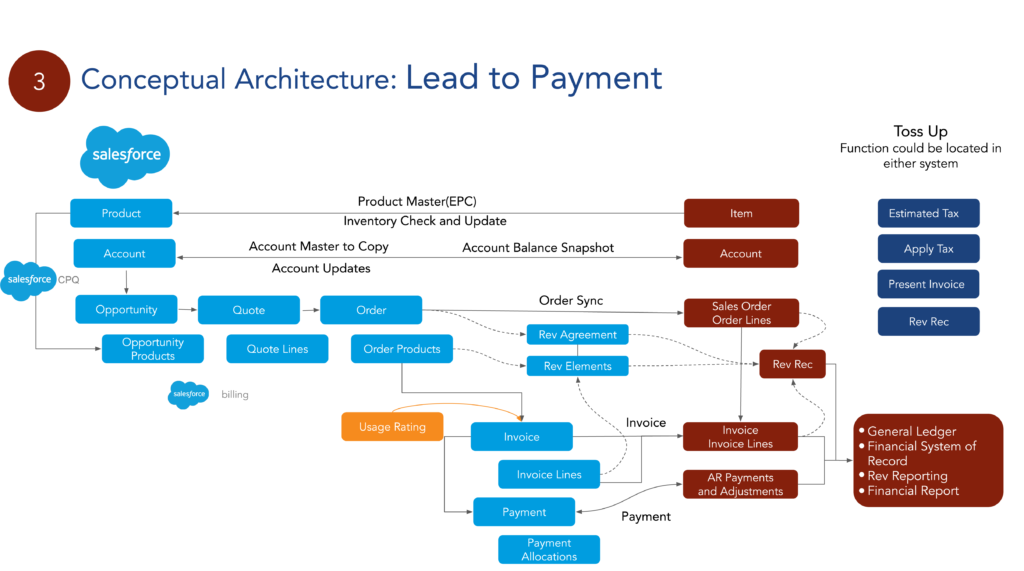 Lead-to-Ledger Use Cases:
Launch of a new Business Unit in a Large Enterprise

ERP Replacement in Near Term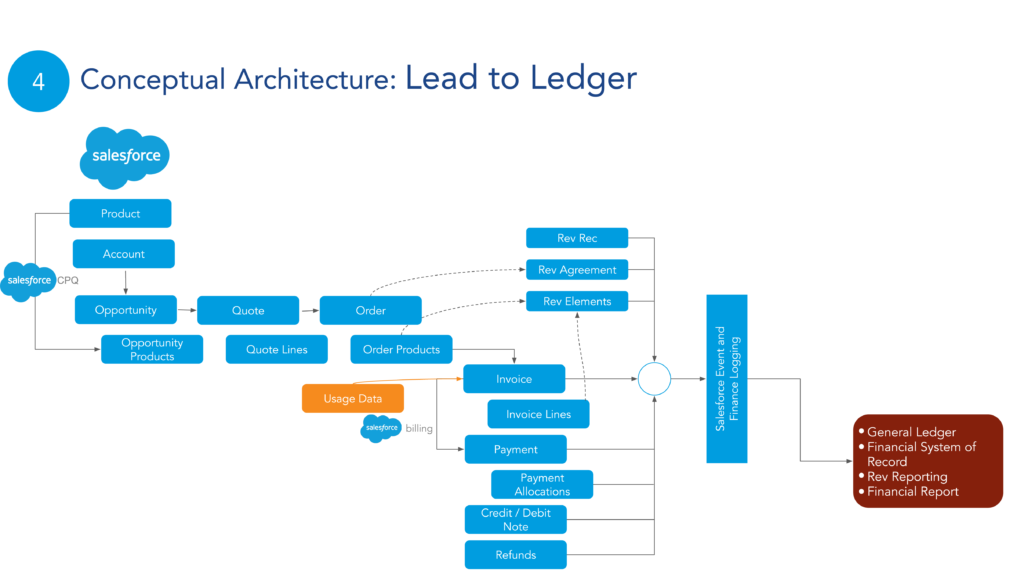 An end-to-end business transformation needs proper planning, right approaches, best practices and expert implementation specialists and integration experts. Whether it is a contract or billing issue, empower your organization to tackle it best with the right Salesforce Revenue Cloud and ERP integration. Let our team of experts help you to instantly connect your Force.com platforms and other ERP systems to help you in your digital transformation.