The Financial Services Cloud is an integrated platform designed to improvise stronger client relationships. It helps bankers, advisors, and relationship managers deliver personalized proactive advice to their clients throughout a ever-evolving financial landscape to provide the right connected experience. Among the many Spring Releases, 22 Enhancements in financial services cloud- the notable ones are Record Alerts, Interest Tags, and Tableau CRM for Financial Services with Insurance Dashboards. Users can now gain insights active deals, parties, and account interactions simply by tracking data. Clients can now be alerted of any changes in their records with the new advanced Record Alert functionality. Custom Interest tags can be added without additional development to capture client needs, interests, and opportunities. 
Improved Financial Deal Management
Financial Institutions can now track more details about the bids and assets which are part of a financial deal. With the new Financial Deal Parties component, deal data model, advisors and managers can now view and track information from bid date, bid amount, bid round to asset type, and unit of measure. The new Financial Deal Parties component also helps users quickly identify the accounts or contacts involved inside a financial deal, the roles of the corresponding parties, and their every interaction details. 
Interaction Summaries Made Simpler
Users can now have insights into accounts and key contacts with the new accounts interaction component. The interaction summaries component can now be used on any object record page, including custom objects. Earlier, it supported the Account, Financial Deal, and Opportunity objects only. You can also use the duplicate record management feature to prevent duplicate interaction records. All you need to do is set up duplicate rules and matching rules for the interacting object. 
Record Alerts Are Now In Action
To provide optimal customer experience, agents can now receive alerts with any changes in client records that require action. In the new Spring Release 22 Enhancement, Record Alerts can be used as a function. Agents can scan a record and view notifications that pull information from the core banking system or alerts stored inside Salesforce. Functions like snooze alert for later and dismissing alerts are also available to ensure agents are up-to-date to provide the best customer experience. APIs can be used to collaborate financial account transactions, financial accounts, and personal account alerts in a hierarchical view. 
Interest Tags Are A Feature
Custom tags to personalize interactions and track clients' business and personal interests can be done by using Interest Tags. Users can now build more personalized conversations with their clients and develop deeper relationships. Create custom interest tags and categories to let users add interest tags to their client records to identify interests, needs, and opportunities. Applying these interests to personal accounts for hobbies like golfing, skiing, hiking, financial advisors can target protection plans to help them enjoy their hobbies better. Interestingly, for large business clients, their investment interests like healthcare or environmental or Safety can be looked upon as more opportunities for cross-selling other financial products in the line. This feature has been the ask of many financial organizations in this digital age. It is a great cross-selling opportunity available within the channel. 
Tableau CRM For Financial Services Improved Insurance Dashboards

The Financial Services Cloud offers an advanced analytics solution based on Tableau CRM to help financial service executives and managers, advisors, and personal bankers manage their business books with insights about client goals and satisfaction, leads, and referrals. The improved dashboards now offer more insights on predictive analytics, lead scoring, and any key performance metrics. It also provides automatic recommendations for enhancement in different areas based on performances. 
Improved Residential Loans, Household Management Flows, And Apps
Apart from the features mentioned above, now loan officers and other account team members can easily access and edit Residential Loan applications. Customizing the group members and details component adds easy access to household management flows. The enhanced insurance claims and policy analytics app provides more actionable insights for managing claims and policies.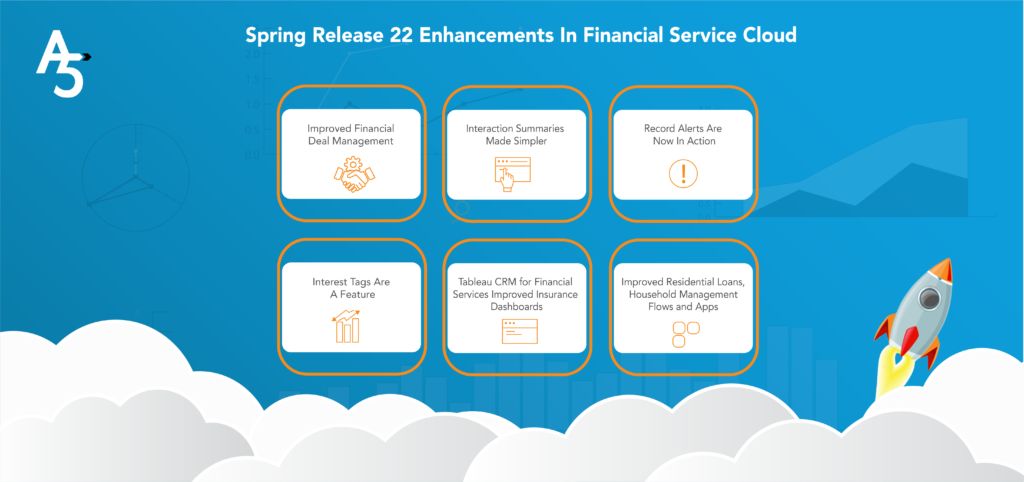 Financial professionals are becoming busier with more digital empowerment. The state-of-the-art Salesforce Financial Services Cloud powered by AI solutions like Tableau CRM will be a game-changer for the financial services industry. As more and more clients expect personalized services, bankers and wealth advisors are under tremendous pressure. According to a Salesforce survey, financial organizations that adopted Finacial Services Cloud witnessed 44% faster collaboration, 34% increase in sales productivity, 188% Return On Investment, and 37% more rapid decision making. Our Financial Services Cloud Experts are industry veterans who can help your employees identify the right opportunities and stay focused to improve the business. Need us to look over your digital engagement maturity and help you adapt to these new advancements? Let's connect.