Salesforce Manufacturing Cloud has been an excellent Salesforce product that aims to help businesses in the manufacturing sector achieve commercial excellence and empower their teams with a single source of truth. The Spring 22 Release Updates in Salesforce Manufacturing Services Cloud reveal that the product intends to be the #1 CRM for all manufacturing businesses by being closer to the customer. Let's take a closer insightful look at the new features and enhancements from this Spring 22 Release.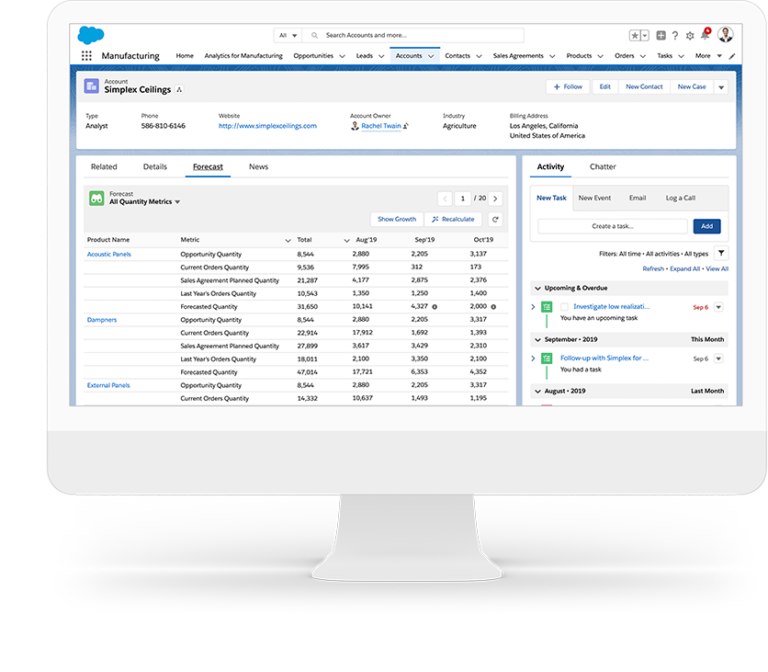 Advanced Account Forecasting Feature For Enterprise Accounts
Manufacturing business leaders can now gain more meaningful account forecast information with precisely what they are looking for. Thanks to the new Advanced Account Forecasting feature available in the Spring 22 Release Updates, Admins can add measure groups to help users view account forecasts with specific measures, like quantity or revenue. In the forecast grid, users get to choose from a list of particular measure groups. Users can now also manage their forecasts efficiently using the options to create custom fiscal years and generate weekly forecast reports apart from monthly, quarterly, or annual reports for their respective accounts. 
Increased Partner Collaboration On Forecasts
A connected network of partners, communicating and collaborating on the same platform about various deal status, activities, action items, opportunity tracking helps to provide better pipeline visibility. Now with the enhanced manufacturing experience cloud site template, manufacturing businesses and their partners can view and update the forecast details for their accounts. They can also access detailed forecasts of the accounts they are connected to. This collaborative approach will support dealers, distributors, reps, and resellers to put their best foot forward to sell better and forecast sales accordingly for the business. Sales Agreements too can have more products and schedules.  
Forecast Calculations Simplified
Earlier calculating forecasts using a custom advanced account forecast fact object was complex and required a lot of logic and calculations. Now you can create triggers with your data processing engine jobs to calculate the forecasts. There is no need to use the 'CalculateAdvancedForecasts' invocable action in a flow to perform forecast calculations. This feature is now available in Enterprise Lightning Experience, Unlimited, and Developer editions where Manufacturing Cloud is enabled. All you need to do to access this feature is to have Manufacturing Advanced Account Forecast permission set in your package.  
Enhancements In Data Processing Engine Templates

Manufacturing Business Leaders can now get more weekly forecast reports with the Data Processing Engine Templates enhancements. The improved template can now sort data before they get inserted in the advanced account forecast fact object. With the advanced visibility inside the forecast data, manufacturers can use it to optimize their production and operations. The Account Health dashboard will give a complete picture of the account health based on critical revenue and quantity metrics. Account Insights dashboard, on the other hand, will help track account performance based on various standard and custom dimensions, analyze the composition, and identify accounts and products that require urgent attention. 
Soar New Heights With Manufacturing Cloud For Service

Today's customers expect an omnichannel service 24/7 digital customer experience. In a recent study on the Trends in Manufacturing, 56% of surveyed manufacturers consider pandemic-induced changes to their customer service capabilities, and it will be permanent. Manufacturers, therefore, are looking for ways to amplify customer loyalty while also automating customer service to convert it from a cost center to a revenue generator. Thanks to the new Salesforce Manufacturing Cloud for Service, a new industry-specific platform built on Service Cloud. This new Spring 22 Release Update in the Manufacturing cloud will help manufacturers to automate their workflows across departments and silos quickly. This will provide service teams with all the information to resolve customer complaints, support cases, and queries. Furthermore, manufacturers can now get all the customer feedback at every relationship stage and work backward to improvise the customer feedback strategy to enhance customer loyalty and amplify experiences.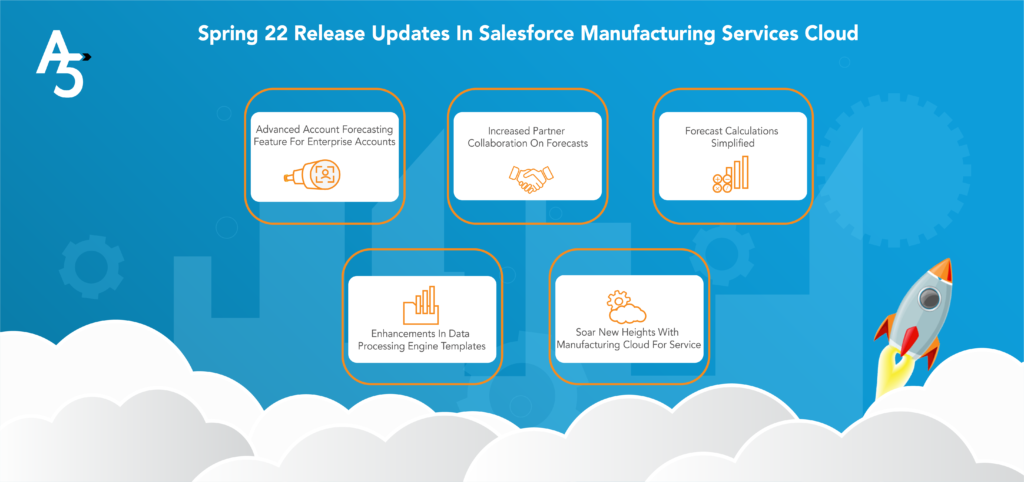 88% of manufacturers say they need accurate tools for forecasting. 89% of manufacturers need new approaches to forecasting. 88% of manufacturers vouch for increasing efficiencies is a priority. Salesforce Manufacturing Cloud is the primary tool that connects sales and operations to drive forecast accuracy visibility across the entire business ecosystem and elevate customer experiences. Our strong expertise in Manufacturing Cloud, coupled with Sales and Service, will help your business lead digital transformation most accurately. Need an expert Salesforce partner to look over your forecasting challenges, business pipeline issues, or implementing this new Manufacturing cloud for Service? Let's connect.