Spring 22 Release of Salesforce has unveiled significant advancements in all Salesforce clouds. But let's talk about the Spring22 features of the commerce cloud at length. Commerce Einstein, Salesforce Order Management, and more advanced features in B2B and B2B2C commerce are now part of the new Spring 22 release.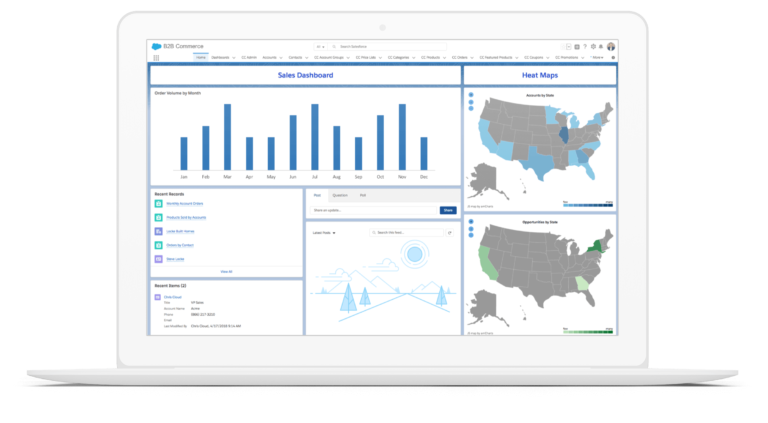 Salesforce B2B and B2B2C Commerce Are Now More Advanced
Previously importing bulk images for products for a particular B2C or B2B store or globally for all stores, using a CSV file was cumbersome and difficult. But now, a simple CSV file can help upload the images faster. You need to use the media as the product list image or add a maximum of eight other pictures for the product detail page. You can also now view images for products in the product workspace. Adding products is also easier now with fewer clicks. Previously, you could only assign media to the parent product, but now you can assign images and attachments to product variations inside the store. 
Furthermore, the store setup process is more simplified, with several default records for the store now automatically added to when you attempt to create a store. You can easily assign catalog eCommerce Managers to easily manage and sort search output, configure additional searchable values, and try out the improved Results Layout component available for B2C stores. Easily create parent-child cart relationships. New feature auto-correction or typo tolerance introduced as a  Spring22 Feature of Commerce Cloud helps customers find the right product irrespective of typo errors. Help topics in Salesforce give more insights into using Commerce Search, typo tolerance, auto-correction, and Einstein Search suggestions. The B2B2C storefronts, which had a Search Results Component, will be replaced with an updated results layout component. You can now update the component to reap the benefits of enhanced search and layout options for B2B2C Commerce storefronts. 
Commerce Einstein To Help Automate Personalizations
The Spring 22 release will extend Commerce Einstein cookie privacy to customers logged in as shoppers in B2C stores. A third-party cookie consent banner will pop up before Commerce Einstein can track their data. Earlier, only guest customers could give their consent to site activity tracking. Pre-configured Commerce Einstein Recommendations are now part of the template pages to help site configuration and strategic recommendation placement. Users can now edit or remove these components from pages to enhance the shopper's journey accordingly. 
 How Commerce Einstein will display recommendations in B2C stores is now totally under merchants' control. You can now decide what you want to display in your recommendation carousel. Be it product text, price information, quantity selector, or call to action button for products. The changes will reflect in the carousel representation in Experience Builder. Commerce Einstein can now also be deployed in B2B storefronts. Earlier, Commerce Einstein was enabled by default only for Einstein Search suggestions. This is a great feature as merchants can now use the product catalog and buyer activity tracking to generate Einstein Search suggestions. Salesforce also added 'ViewSearch' and 'ClickSearch' data objects to enhance the buyer experience to track B2B digital storefront activities. 
Improved Salesforce Order Management
A recent data released by Google says 47% of international purchases are done online and 46% of shoppers confirmed inventory levels online before making a store purchase. Therefore, it is the right time to keep your shoppers happy with exchanges for order items before fulfillment and to employ more robust and comprehensive flows to enhance better data integrity. You can easily add order item summaries to an order summary to find available inventory and identify the fulfillment routes with the new Find Routes With Fewest Splits Using OCI flow core action. Prepare and manage omnichannel inventory downtime with the new Inventory Downtime Recovery Playbook that helps to design and implement a plan for handling orders when Omnichannel Inventory is unavailable.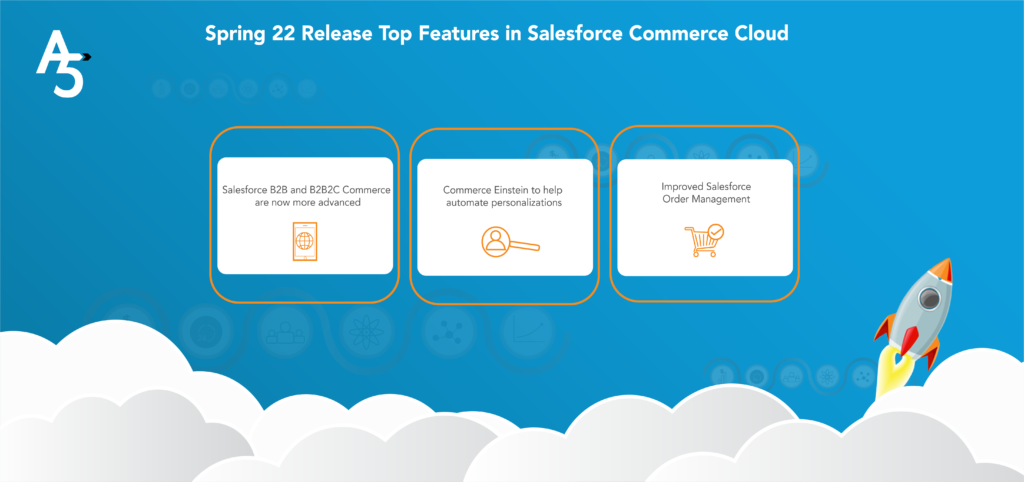 Salesforce Commerce Cloud is an out-of-the-box eCommerce solution that helps create seamless experiences that today's connected shoppers demand. Our five-step guided approach in eCommerce solutions has enabled brands to sell more effectively and efficiently in this digital era. Need help to understand how commerce cloud enhancements can be a good fit in your already existing eCommerce solution or wish to start fresh with an empowered digital commerce solution? We are just a click away. Let our experts help you in this transformation.