Salesforce Spring'22 Product Release brought in numerous significant updates in the Salesforce Revenue Cloud product that will help make CPQ and Billing a more robust solution to lead business transformation. From enforcing data restrictions for Access Permission sets, browser performance improvements, default enforcement of encrypted customer IDs in Payeezy ACH Payments methods, the advancements made will help Salesforce CPQ and Salesforce Billing to better support Lead to cash activities in revenue generation processes. 
Salesforce CPQ Updates from Spring'22 Release
Let's look closely at the new advancements that the Salesforce Spring'22 product release has brought in Salesforce CPQ.
External Configurator Plugins are not supported with Enhanced Domains
If My Domain has enhanced domains enabled, Salesforce CPQ external configurator plugins will not support this feature. However, Salesforce Revenue Cloud Product teams are working actively to make the external configurator compatible so that in the future it can support enhanced domains. Using an external configurator to do some custom configuration as of now ensures that Enhanced Domains aren't enabled. This new change will apply to the Lightning Experience and Salesforce Classic Customers using Salesforce CPQ. 
Data Restrictions Enforced for Restriction Sets

Salesforce CPQ users can now access objects and fields safely and appropriately with data restrictions in place for the access permission sets that Salesforce introduced in Summer'21 and Winter'22 inside Revenue Cloud. This change will apply to the Lightning Experience and Salesforce Classic in Salesforce CPQ.
In the Salesforce Spring 22 Product Release, users now have two ways to access the new permissions:
If custom CPQ permissions sets are used, they can now use four access permission sets available as default within the Salesforce CPQ. As most CPQ admins tend to clone and edit the standard permission sets for org users, Salesforce now revamped the system to assign access sets directly to users without cloning or editing. This is an important step taken from Salesforce to ensure that users don't miss important data security updates. 

However, suppose you aren't using custom permission sets in your Salesforce CPQ instance. In that case, there are still standard CPQ permission sets added in each release that users like admins, partners, customers, or general CPQ users need to be aware of. 
Salesforce understands that users need to test the effects of the new permission requirements and hence did not enforce the permission requirements by default in the CPQ Summer '21 release. In this present Spring '22 release Salesforce is now removing the Perform Enhanced Data Access Checks package settings from Revenue Cloud to enforce new data security permission requirements. As a user, if you wish to disable the permission enforcement, all you need to do is file a request with Salesforce CPQ Support. The future significant releases will set the permission requirements by default. 
Browser Performance Improvements to follow
In Summer'21, Salesforce promised to bring out browser performance improvements. Spring'22 enforced that Salesforce CPQ can run faster in supported web browsers by employing new Web Components V1 technology. Although browser performance improved a lot, there is a disclaimer, the look and feel of the customizations inside Revenue Cloud might change. Salesforce, therefore recommends testing the customizations on the desktop and in the Salesforce Mobile App. While testing, make sure you focus on Quote Line Editor, Product Selection, Salesforce CPQ favorites, Product Bundle Configuration, Quote Calculator Plugin, and Page Security Plugin. While doing the updates, if you encounter unwanted differences that can't be resolved with customizations, feel free to reach out to Salesforce support for help.
However, this change will apply to Lightning Experience, Salesforce Classic, and the Salesforce mobile app in Salesforce CPQ sandboxes or production org. This update will be standard, and cant be disabled in the future. You can search your instance inside Trust Status, click maintenance and upgrade your instance with the latest release features. 
Although Salesforce warns not to disable the release update as it is soon going to be a standard feature, there is a way you can still disable the release update but use the Improve Browser Performance Setting. Navigate to Setup in the Quick Find box, enter Installed, and click Installed Packages. Click on Configure immediately next to the Salesforce CPQ package in the menu bar. Deselect Improve Browser Performance from the Additional Settings tab over there. 
Salesforce Billing Updates from Spring 22 Release
The Salesforce Spring'22 Product Release also brought in some significant updates in Salesforce Billing. Let's dive into what they mean in reality and what insights we can draw.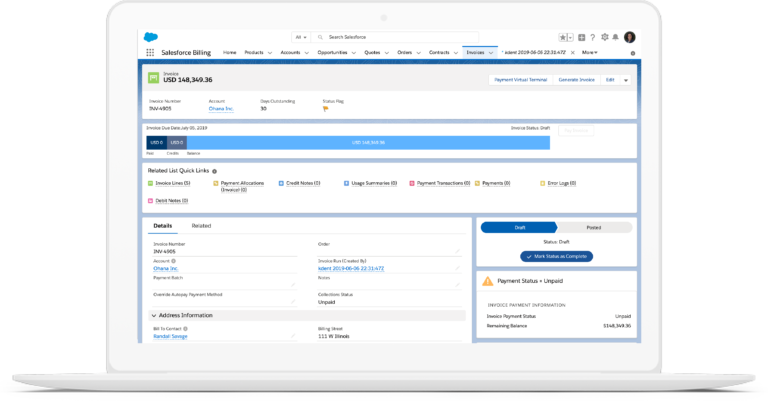 Default Encrypted Customer IDs for Payeezy ACH Payment Methods
From now on, Lightning Experience and Salesforce Classic users in Salesforce Billing can easily manage their information securely in Salesforce Billing when configuring payment methods for Payeezy solutions. Earlier the Payeezy package used the payment method field identification Id/Number field for Customer IDs, which weren't encrypted. But the Payeezy payment gateway required a customer ID for ACH payment method data in payment gateway requests. If a customer did not wish to use the non-encrypted field and left the Identification Id/Number empty, Salesforce Billing would automatically assign a default value with the gateway request. This value, in turn, would end up creating a failure response from the payment gateway. 
The field here represents a unique customer value like social security number, tax ID, or driver's license number. It is then encrypted to mask the entered values inside Salesforce Billing to initiate secure payments. The new release is made it more prominent on the Payment tab of Salesforce Billing package settings.
To make successful payments with the Payeezy Package being installed, Community users now require Read access to the Encrypted Customer ID field. All you need to do is go to the Encrypted Customer ID field from the community user's profile and select Read. Now Assign Payeezy Admin Permission Set to the user. However, if you don't want to use the Encrypted Customer ID, deselect Use Encrypted Customer ID for Payeezy ACH Payment Methods, and you should be fine.
Invoice crediting errors now fixed
Earlier, Salesforce Billing attempted to unallocate the payments, credit notes, and debit notes, leading to a validation error and incorrect credit allocation. The unallocated debit notes and payments show an error "Type and Unallocated values cannot be changed." With Spring' 22 release, Salesforce Billing corrected this invoicing issue. This change is now available in the Lightning Experience and Salesforce Classic Platforms in Salesforce Billing.
Need an upgrade or want to know more about how Salesforce Revenue Cloud can help in your business transformation? We are a Salesforce Summit Consulting Partner with the highest level of expertise in consulting and delivering the most impactful features and applications to power up your Salesforce Revenue Cloud and lead to cash processes. 
We're just a click away! Let's connect