The Spring 22 Release brought a lot of new improvements in the Salesforce Marketing Cloud, especially in the CDP and Dataroma sectors. The latest release aims to provide a more consistent Salesforce experience across all parts of Marketing Cloud. This Spring 22 Release Overview will go through the significant enhancements that will allow users to improve efficiency, build more data-first marketing campaigns, and extract more value from the platform.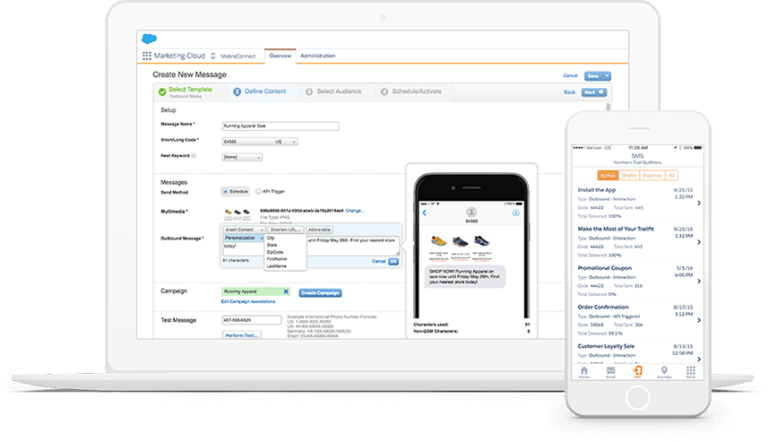 Appexchange Partner Apps Now Part Of Salesforce CDP
More than 90% of Salesforce customers rely on partner apps available on App Exchange. Businesses can now gain more profound insights with Salesforce partners and products to reap the benefits of Salesforce CDP- the self-service customer data platform. AppExchange partners and developers can now cohesively build and share external activation platforms to expand their capabilities and solutions across larger audiences. A new SDK now unifies Salesforce CDP and Marketing Cloud MobilePush data to streamline messages and insights. The outcome of this will be highly beneficial to businesses as they can create a unified data experience to better map their customers' journeys. 
Anonymous Profiles Now Part Of Salesforce CDP
Collecting anonymous data of individuals is a vital part of proper CDP functioning. Earlier all unified profiles were assessed under known customer profiles. Also, profiles with anonymous data were part of known profiles to provide richer suitable profiles. This Spring 22 Release Salesforce CDP can now distinguish between known and unknown profiles. CDP users can categorize a profile as anonymous by mapping the 'Is Annonymous' field on the individual object in Data streams. The previously known 'Salesforce CDP Maximum Number of Profiles' is now renamed 'Salesforce Maximum Number of Known Profiles' to house all known profile data. In this Spring 22 Release Overview, Salesforce will now support five anonymous profiles for each known profile to support the anonymous data collection. This new modification will apply to Lightning Experience across all editions of CDP. 
Datorama To Connect Ecommerce Experiences
In a recent Salesforce report, 80% of customers emphasized that a company's experience is as necessary as its product or service. 76% of customers evaluated in Salesforce's Connected Customer Report expect consistent interactions across departments, while 54% said it seems typical like departments don't share information. Understanding this gap in the market and the demands from the customers, in this Spring 22 Release, Salesforce made enhancements to its state-of-the-art Datorama, its marketing intelligence tool to connect eCommerce data. Now automated intelligence will help secure a brand's marketing and commerce data to provide better insights and analytics, optimizing relationships and increasing ROI and Revenue. 
Datorama connector for Salesforce Order Management System will now connect eCommerce experts and marketing specialists to understand the relationship between marketing campaigns and sales. 
Datorama Connectors for Amazon Seller Central and Amazon Vendor Central Inventory will help optimize sales and orders conducted in Amazon. 
Dataroma's eCommerce Data Model is Salesforce's latest innovative solution that automatically constructs eCommerce data from any platform to make it work for marketing better. The AI-led intelligence inside Datorama's Einstein Marketing will help marketers create better-unified customer experiences.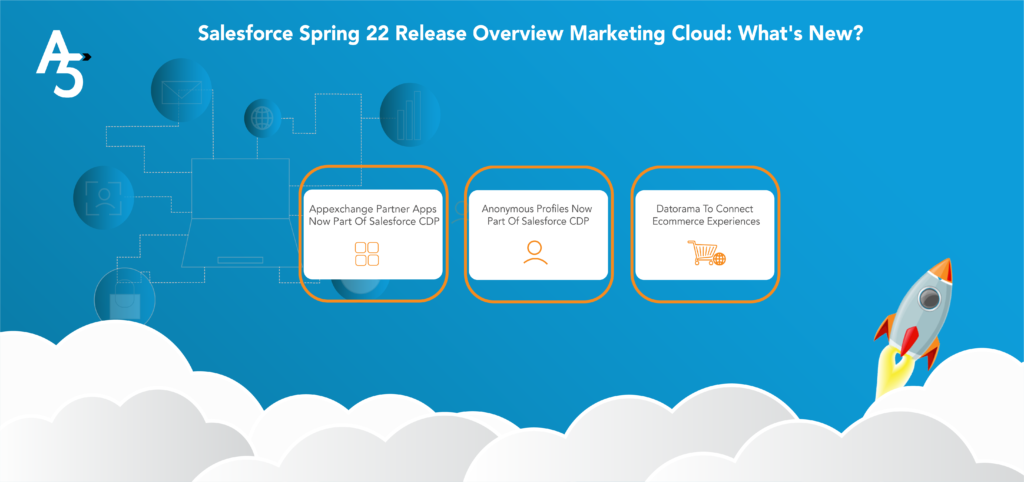 Salesforce marketing cloud is a great tool to initiate and cultivate a data-first environment to lead digital marketing initiatives across all customer touchpoints. We have helped numerous clients in their digital transformation using the marketing cloud as our go-to-market tool. Need help in unboxing it or adding these new enhancements, let our certified and experienced marketing cloud team help you.