Oracle 

Sales
Performance Management

A5 is an Oracle Platinum Partner and maintains both the Oracle Cloud Excellence Implementer Status and a position as one of the highest rated partners on the Oracle Cloud Marketplace. Oracle helps organizations to begin their digital transformation utilizing the power of enterprise cloud computing, software as a service, platform as a service, infrastructure as a service and data as a service.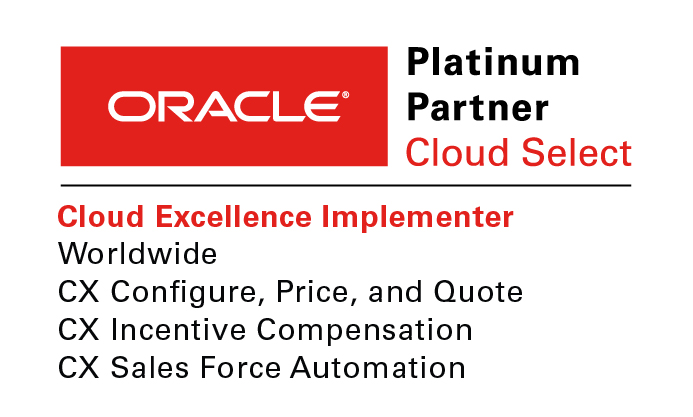 Advantages
Guide Your Sales Team to Success
Using this solution, sales managers can offer guidance to their teams in order to support techniques learned in training and reduce on-boarding time for new hires.

Motivation in a Snap
Team leaders can encourage sales behaviors by implementing and monitoring incentive and compensation plans that align with sales strategies and goals.

One Tool, Endless Possibilities
Use this tool to conduct territory planning, quota modeling, create incentives and games, implement sales coaching and more.
Oracle Sales Performance Management (SPM)

Historically, customer relationship management (CRM) solutions have been geared towards the customers' experiences and made the sales teams an afterthought. Now, businesses are realizing the importance of sales performance management (SPM) tools, and the demand for such tools is rapidly increasing. Oracle's SPM tool is unique in that it is designed on a single platform, on a single database with a single user interface, and uses a single reporting platform to provide end-to-end capabilities. By enabling companies to manage their sales performance, Oracle's SPM tool identifies and addresses problem areas, encourages successful behaviors and drives better sales techniques.
Oracle Process Improvements

Rich, adaptable plan design and robust calculation engine for commission and bonus calculation
Commission and bonus estimator
Plan Modeling capabilities
Flexible Sales Credit and hierarchical Rollup Rules with cross-business unit crediting capabilities
Customizable Compensation Plan Documents with integrated workflows for Plan Approval and Participant Plan Acceptance
Configurable Payment Approval workflow
Dispute Management
Powerful BI Analytics
Compensation Dashboards
Mobile Commissions App
Integration via Web Services
A5 IP
A5com Connector exposes key Oracle SPM functionality in SFDC including Estimated Compensation, Disputes, key SPM Reporting and SFDC Opportunity to SPM Transaction real-time integration
A5 Credit Rule Import Tool allows modeling of Sales Credit Rules in user friendly Excel template and import into Oracle SPM using a desktop application
A5 Data Quality Dashboard (DQD) for Compensation Administrators to provide audit trail reports and real-time information on Collection, Credit and Eligibility errors, Credit Rule Analysis, Goal Analysis, missing transaction attribute data and Commission Prove Out reports
Library of over 100 A5 custom reports for sales reps, managers, analysts and executives
Library of over 40 A5 user defined functions and user queries to extend calculation capabilities for complex proration, currency conversion, guarantee/draw and recovery requirements along with additional functions designed to improve calculation performance
A5 Differentiators
At A5, we are about more than just systems implementation. Our A5 offerings (Audit, Advise, Align, Attain, Assist) span the entire software ownership lifecycle and that mindset permeates each aspect of our service delivery.  We understand that most of the work happens around and outside of the implementation and we are happy to guide and assist you each step of the way. Our goal is to teach you to fish, so that when we hand over the keys, you're ready to manage the system on your own.
At A5 our SPM team comes with decades of SPM on-premise and cloud experience across a wide variety of industries and verticals. We are thought leaders and draw on our experience across industries to bring all of our customers best practices in the world of SPM. With our experience with organizations around the globe, we can show you how to transform your Sales Performance Management processes and provide the visibility and flexibility your organization needs.
At A5 we utilize a hybrid Agile/Waterfall methodology which works well with the iterative process of implementing a Sales Performance Management solution. This process allows us to bring true business value early on in the implementation and to release additional new functionality up until the final go-live. This flexibility allows us to work with you to create a solution that will work for your organization while creating a high sense of ownership within both the user and admin groups. We utilize a dedicated team of testers to ensure a quality product before we hand off to your users for acceptance testing. We've found this hybrid approach to be the most successful way to deliver quality projects and platforms to our clients – on time, on budget, and with high adoption.