Oracle


Configure Price Quote (CPQ)

A5 is an Oracle Platinum Partner and maintains both the Oracle Cloud Excellence Implementer Status and a position as one of the highest rated partners on the Oracle Cloud Marketplace. Oracle helps organizations to begin their digital transformation utilizing the power of enterprise cloud computing, software as a service, platform as a service, infrastructure as a service and data as a service.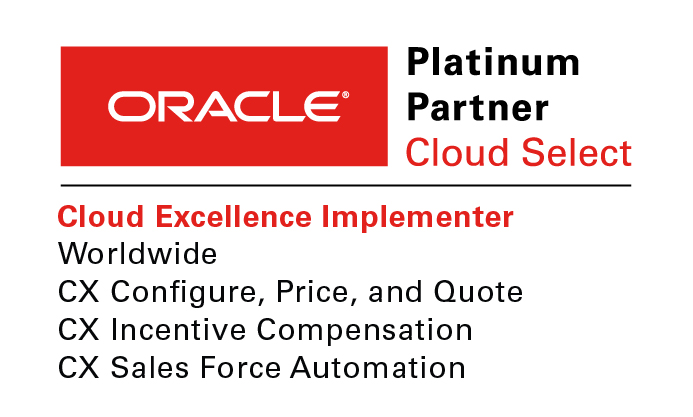 Benefits
Lightspeed Configuration
Quickly and easily configure even the most complex products and services with 100% accuracy.
Guided Selling Features for Smarter Sales
Use the up-selling and cross-selling features to recommend products, services and drive more revenue for your business.
Automated Approval Process
Accelerated review and approval processes with automated features to eliminate hang ups in the quote process.
Make Discount Errors Disappear
Improve compliance and audit controls with constraint-based pricing rules on discounts and pricing.
Track and Analyze with Ease
Utilize the reporting feature to analyze key performance metrics in real time in order to adjust sales strategies and enhance outcomes.
Oracle Configure Price Quote (Oracle CPQ)

Between thousands of products, complex pricing calculations and lengthy approval processes, creating consistent accurate price quotes can be complicated. Oracle Configure Price Quote Cloud, the proven CPQ leader, can make that process more efficient. Eliminate human error and expedite quote turn around by automating the configuration quoting process with Oracle CPQ.
Oracle Process Improvements

Product Configuration and Guided Selling
Advanced Pricing & Ratings Engine
Automated Approval Workflow
Quote Generation w/eSignature
Fully Integrated Order Entry
Advanced Deal Analytics and Trend Analysis
A5 IP
Industry specific templates & pre-built connectors/integrations to save you time and money
Performance Testing Tools to avoid and quickly resolve any system lag times
Automated Testing Suite to remove the manual aspect to systems testing, increasing speed of delivery and testing accuracy
Embedded spreadsheets and Optical Character Recognition to extend the capabilities of the CPQ Cloud platform without cumbersome customizations
Excel and PowerPoint export and import capabilities to expand on the already robust CPQ Cloud Doc Designer
A5 Differentiators
At A5, we are about more than just systems implementation.  Our A5 offerings (Audit, Advise, Align, Attain, Assist) span the entire software ownership lifecycle and that mindset permeates each aspect of our service delivery.  We understand that most of the work happens around and outside of the implementation and we are happy to guide and assist you each step of the way.
At A5 our CPQ team can draw on decades of CPQ Cloud experience across a wide variety of verticals.  This means we will be bringing both an understanding of your industry and a broader set of experience that will allow you to learn from global best practices that don't often get shared across industry lines.  Let our experience enabling sales teams across the globe help shape how you utilize CPQ Cloud and modernize your approach to selling.
At A5 we utilize a hybrid Agile/Waterfall methodology that allows for and anticipates the learning that often accompanies a deep dive into a CPQ implementation and sales enablement in general.  This flexibility allows us to work with you to create a solution that will work for your sales team while creating a high sense of ownership within both the user and admin groups. We follow this up with a rigorous testing cycle to ensure platform accuracy and effectiveness prior to system launch.  We've found this hybrid approach to be the most successful way to deliver quality projects and platforms to our clients – on time, on budget, and with high adoption.

A5 is one of the most knowledgeable Oracle implementers I know.
WENDY VILLABOL
Sr. Manager, Denso

Based on the all of the Oracle implementers we reviewed, A5 was the most knowledgeable, willing to listen and willing to advise on appropriate measures to meet our requirements. We fought to get CC approved as globally approved SI so we could use them.
Deployment Location
North America

Industry
Automotive

Products
Oracle CPQ Cloud & Sales Cloud

Legacy Platform
Lotus Notes
Integrations
Oracle Sales Cloud
JD Edwards
Oracle Financials and Procurement
IBM DB400
Partners Use Case Summary
A5 worked with DENSO Corporation to streamline their sales process and drive business value through a digital solution.
Top Customer Objectives and Challenges
Paper based quoting process
Limited visibility into sales process and no audit trail for compliance
Approved workflows were outdated and resulted in delays in the quote to cash process
Results
Leveraged Oracle Sales Cloud and CPQ Cloud Integration to create a unified rocess, always subject to sales specialists specific rules
Developed a one of a kind approvals dashboard in Sales Cloud to greatly improve tracking, compliance and auditability for 3000 sales specialists across the world
Key Benefits
Automated data entry to reduce entry errors and improve efficiency
Provided an electronic audit trail to greatly improve compliance with various audit standards.