The quote-to-cash (Q2C) process is an integral part of the sales cycle that drives revenue for any organization. Abbreviated as Q2C (also referred to as QTC) helps streamline the quoting, contracting, and ordering sales processes to provide greater efficiency and better visibility, leading to improved business outcomes. Optimizing and managing the quote-to-cash process into your business helps speed up the sales cycle, create better buying experiences for the end-users, and close deals faster for the sales teams.
Configure, Price, Quote (CPQ) is a critical part of the quote-to-cash process that provisions teams to configure personalized offers quickly, generate pricing, and produce custom quotes for customers in the most efficient way. Built with the power of AI (Artificial Intelligence), CPQ can scale your business efficiency and help your teams focus on winning the deals.
A recent PWC study emphasizes the importance of the Q2C process in your business. Optimizing your Q2C process can reduce the sales cycle time by 30-60%, increase ROI by 10-15%, and reduce the order processing cycle time by 20-40%. 
Here's how an insulation contractor company used our quote-to-cash solution to improve their sales cycle, business efficiency and awe their customers.
An insulation contractor wanted to streamline their quote process and manage crews in the field. Quotes were tracked in a local system that sales teams couldn't access remotely and did not provide any reports. Estimates change and additional job costs are often uncovered in the field, requiring costly back and forth to get new quotes turned around. Tracking job costs was difficult, and there were no overall reports on the costs of jobs vs. the quote prices.
We implemented Sales Cloud to manage the Opportunity pipeline. Using easy-to-access chatter actions and some automation, sales users went from sending PDF quotes through a manual process to automatically generating and sending quotes for electronic signature. For generating custom quotes and sending them out for electronic signature, we used our own A5 Documents and A5 Signature apps. With the push of a button, the quit is generated, and the salesperson sends out the link for signature. Speed to market with quotes is critical in contracting, and the A5 Documents and A5 Signature Apps speed up the quote generation process.
We also created a webform and included custom links on the quotes to help customers pay their deposit electronically, further streamlining the quote to cash process. We also automated the creation of work orders once the deal closed and deposits were made, allowing teams in the field to access all pertinent info about the job and put in change requests.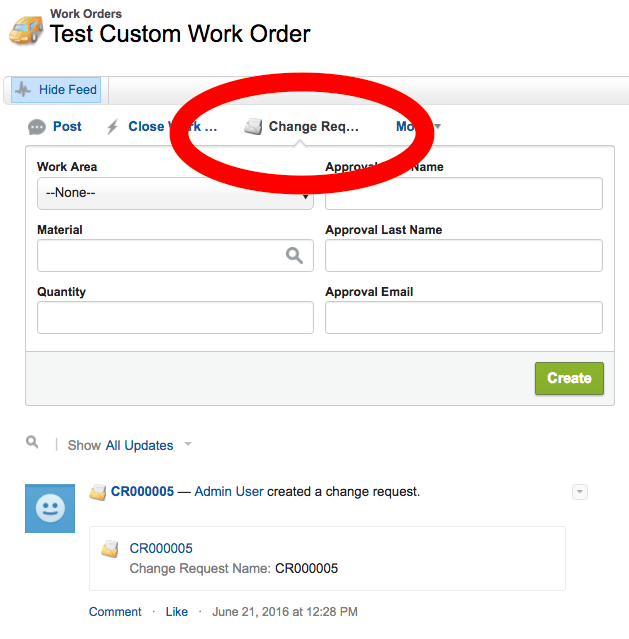 Automated email alerts throughout the process help prompt the team when action is needed on a job. Custom reports and dashboards ensure management has a comprehensive view of their pipeline all the way through to job completion.
Gathering completed job costs was difficult without a mobile system like Salesforce, so we customized the mobile app for time entry and job costing. Field crews can enter their time against a job and any inventory used for that job. Reports help management monitor margins and identify successful jobs.