Oracle


Configurator

A5 is an Oracle Platinum Partner and maintains both the Oracle Cloud Excellence Implementer Status and a position as one of the highest rated partners on the Oracle Cloud Marketplace. Oracle helps organizations to begin their digital transformation utilizing the power of enterprise cloud computing, software as a service, platform as a service, infrastructure as a service and data as a service.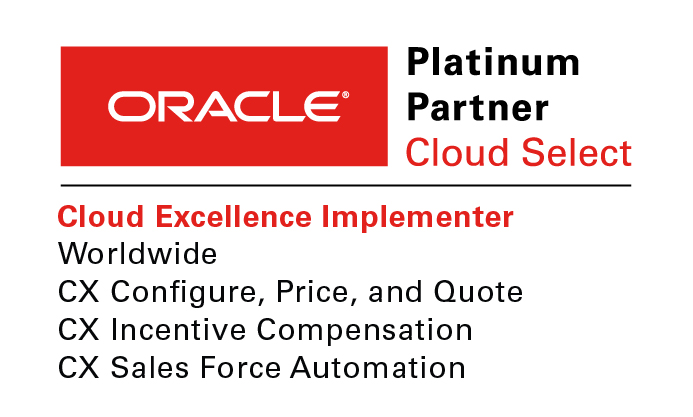 Emphasize upfront product discovery to optimize end to end design and model consolidation
Streamlined templates and tools for requirements gathering, modeling and Configurator instance management
All models and extensions are designed with scalability, performance, ease of maintenance in mind
Emphasis on best practices in 'Design to Release' & 'Configure to Order' processes
Optimal design to drive the maintenance upstream to keep the maintenance and enhancements minimal in Configurator
Optimal use of Product Hug Attributes and Catalog Categories to write generic Iterative rules in Configurator
Performance issues kept in mind from Day 1, not something to be addressed post go-live
Right mix and number of resources at onsite and offshore
Proprietary Automated Configurator testing tools to drastically reduce implementation and maintenance cycles
Oracle
Configurator

With over 50+ live Customers in Configure to Order space, we are considered the "experts" not just by our customers, but the entire Configurator community and our peers in Oracle ecosystem. We also chair OAUG Configurator Special Interest Group (SIG) and are actively involved with helping the Configurator community throughout the globe.
A5 Differentiators
Approach: Provide complete service solution across assisted and self-service channels. Delight the customer with connected web, social and contact center experiences. Solve problems and provide ease of navigation to enhance customers service and buying experience. Our A5 offerings (Audit, Advise, Align, Attain, Assist) span the entire software ownership lifecycle and that mindset permeates each aspect of our service delivery. We understand that most of the work happens around and outside of the implementation and we are happy to guide and assist you each step of the way.
Team: Our A5 team of problem solvers and customer support professionals have decades of experience in helping companies take customer experience into the digital future. Let our experience in enabling customer support across the globe guide your efforts to modernize your customer service operations.
Methodology: At A5 we utilize a hybrid Agile/Waterfall methodology that allows for and anticipates the learning that often accompanies a deep dive into implementation. This flexibility allows us to work with you to create a solution that will work for your sales team while creating a high sense of ownership within both the user and admin groups. We follow this up with a rigorous testing cycle to ensure platform accuracy and effectiveness prior to system launch. We've found this hybrid approach to be the most successful way to deliver quality projects and platforms to our clients – on time, on budget, and with high adoption.

A5 OFFERED CUSTOMIZED OSC IMPLEMENTATION SOLUTIONS
OEM
President


It was a pleasure to work with the A5 team. They were responsive, patient and helpful throughout the entire process. Our implementation was challenging due to the customization and the way we do business—but the A5 team supported us all the way and offered solutions when we got "stuck," so to speak. I would highly recommend the A5 team for OSC implementation.

A5 IS VESTED IN OUR SUCCESS WITH SALES CLOUD
INDUSTRIAL MANUFACTURING
Vice President, IT


A5 has worked with us since we implemented Sales Cloud over a year ago and has continued to act as a real partner on subsequent Sales Cloud projects. We truly feel that they are vested in our success, as they continuously demonstrate through good communication and follow-up well after the cited goal is achieved. I would recommend them as both an implementation and support partner for any company seeking a partner they can trust to be vested along side them on any Sales Cloud related initiative.

A5 IS
THE TOP NOTCH OUTFIT
MILTLON FELICIANO
Vice President IT – iGPS Logistic

A5 drove the conversion from Salesforce.com to the Oracle Sales Cloud for our company. They handled all facets the project: pre-sales support, discovery, planning, development, implementation, data migration and testing. Their team was easily accessible and knowledgeable.
We chose a very aggressive timeline and I am certain it would not have been possible without their guidance and support. Over the years, I've worked with many different partners, and I can honestly say that as a Professional Services Group – A5 is the top notch outfit.